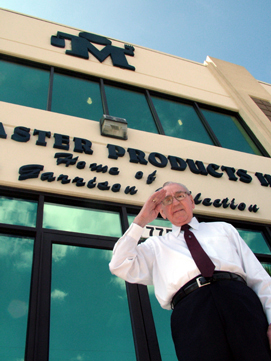 Since Old Master Products, Inc. began over 60 years ago, we've grown into one of the most respected hardwood flooring dealers in the nation. We've built our business on a simple belief:
Hardwood flooring is beautiful.
We love the way it looks, the way it feels, the way it performs. We'd like everyone to feel as good about hardwood flooring as we do, so we do our best to ensure every customer is delighted with their decision to choose Old Master Products for their hardwood flooring needs.
Old Master Products began as a small family business in 1956 by World War II veteran Carl Hilaski. Carl was raised as a farm-boy in Michigan, but fell in love with California (and his wife) when he attended Army Air Force flight school in Los Angeles. After serving his country overseas, Carl returned to Los Angeles where he went into business with his father-in-law selling finishes and flooring to the booming CA housing industry of the 1950s.
I truly believe there is no secret to success in business. Just offer the best products at the best prices possible, stand behind what you do and treat every customer with respect, courtesy and a deep appreciation for their business. We strive to live by the golden rule.

– Carl Hilaski, Founder
Today, Old Master Products is owned and operated by Carl's son, Jim Hilaski along with his partner Shaul Dina. Jim and Shaul are committed to maintaining quality and customer service that Old Master Products has become known for while striving to reach new heights in every aspect of the business.
Whether you're working on a mega-project or just need flooring for room, you can count on Old Master Products, Inc. for a superior product, superior service, and a floor we know you'll love.